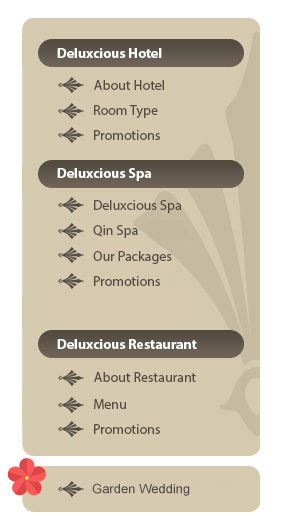 Volcano Heated Rock Massage Treatment 
120mins
A deeply soothing and pleasant treatment that performs an important detoxifying, relaxing, and draining action due to the use of heated basalt stones with therapeutic essential oils. It relieves muscle pain, increases the body metabolism and relaxes the tissue. A body exfoliation before the treatment will allow deeper penetration of the essential oils.
Tropical Bamboo Massage Treatment 
90mins
120mins
Soin Tropical Bamboo is intended to relieve muscle tension, reenergize and drain the body of toxins. Energy is released under the beneficial rolling motion of bamboo moving in rhythmic waves from the arch of the foot to the back of the neck. The mind and body feel revived.
Massage restores vital energy, reduces stress and muscle tension. It promotes a balanced body and state of mind. Our highly professional therapists will make sure you are completely comfortable, even if it's your first massage.
Balinese Massage 
90mins
120mins
A Balinese massage uses a combination of gentle stretches, acupressure and aromatherapy oils to stimulate the flow of blood, oxygen and 'qi' energy around your body, and bring deep relaxation and wellness.
A Balinese massage works deeply to soothe damaged tissue, and relieve strained muscles and joint pain. The boost to your circulation will help reduce stress and rebalance your body.
Aromatherapy Massage 
90mins
120mins
This highly recommended treatment helps restore your body's natural equilibrium with light massage and pressure point massage techniques. Combining specially blended oils from the Aromatherapy Associates range, this relaxing treatment helps soothe both mind and body.
Reflexology Massage
50mins
Indulge your foot treatment that incorporates pressure points that mirror the body's key system.
Slimming Massage 
90mins
120mins

Aromatherapy De-stress Spa Treatment 

Stress? Let the treatment melt your stress away. You will luxuriate yourself with a private aromatic Jacuzzi Bath. Follow by an hour massage with essential oils hits the spot, being physically calming while mentally uplifting.
Emotional Stress Relief 
1hr 40mins
Caused by: grief, loss, relationship problems, etc.
Special selected essential oils are blended to help relieve tension, stress, anxiety, and promote a general sense of wellness. It promotes soothes nerves, mind calming, and elevate your spirit.
Mental Stress Relief 
1hr 40mins
Caused by: over-achievement, exams, anguish over uncompleted jobs, financial stress, etc.
If one is experiencing stress in order to solve this problem. We provide you with special synergistic blended oil with grapefruit, patchouli and lavender to stimulate mind and senses, resulting in refreshed clarity and focus. 
Muscular Fatigue Relief
1hr 40mins
Caused by: over-exertion, driving long distance, etc.
Driving long distance? After working out at gym? Relief yourself from daily stress by loosen tight muscles and lulls yourself to a state of blissful peace. Incorporating our selected de-stress muscle oil, this treatment will leave you relaxed yet invigorated. 
Environmental Stress
1hr 40mins 
Caused by: bright lights, noise, cramped living, lengthening of phone calls, etc.
Rejuvenate after a hard day and escape into an all encompassing retreat for away from the outside world. Enjoy your subtle combination of the right amount of soft light, gentle breeze, therapeutic smells, soothing sounds to harmonize your mind and soul.
Chemical Stress
1hr 40mins 
Caused by: too much coffee, over-drinking, junk food, antibiotics, pollution, smokers, etc.
Experience an invigorating treatment for purifying the body, balancing the mind, and uplifting the soul. 

Take advantage on one of our specially prepared spa packages, which offers a combination of treatments, spa sessions, food and refreshments in the Deluxcious SpaCuisine.
The spa packages have been designed to offer a choice of some of our most popular treatments and excellent value for money.
Gift vouchers for these packages are also available and they make an ideal gift for friends, families and colleagues. Feel free to contact us to get your vouchers.
Sensual Mandi Lulur
1hr 40mins
Influenced by the renowned Royal Indonesian marriage ritual and traditionally given to the bride-to-be to beautify, and soften her skin. It leaves your skin smooth and suppleness.
- 45mins soothing massage
- Lulur exfoliation
- Milk bath
Blissful Retreat
2hr 30min
Blissful Retreat is a total indulgence package for couples. This in house blended Natural Spices and Essential Oils mixture provides an aromatic experience, including general relaxation while achieving detoxification, deep cleansing and improved blood circulation, leaving your skin soft and supple. This Spa session can also be a wonderful surprise gift and a great Loves' Spa Outing.
- 75mins massage
- Full body scrub/ Balinese Lulur
- Nourishing Full Body Mask
- Red Wine Jacuzzi Bath
Ultimate Spa Packages
2hr
- 45mins massage
- Body Scrub/ Body Mask
- Jacuzzi with European Herbal Bath
- Footbath
Indulgence Spa Packages
2.5hr
- 75mins Massage
- Body Scrub/ Body Mask
- Steambath
- Jacuzzi
- Footbath
Royales Retreat Spa Packages
3hr
- 100mins Massage
- Body Scrub
- Body Mask
- Steambath
- Jacuzzi with European Herbal Bath
- Footbath
Sliming & Firming Packages
2.5hr
- 60mins Massage
- Gingler Thermo Exfoliate
- Contour Wrap
- Cryosvelt Firming Application
- Infra-Red Derma Blanket

The Mediterranean Journey 
2hr 30mins
A reflection of the energize spirit and warmth of the Mediterranean cultures, enhanced with the essence. Characterized by Mediterranean lemon, juniper, sage and geranium which is relaxing and beneficial with the energy from the sea. 
- Foot bath 
- Mediterranean Scrub with Olive or Fruity Peel 
- Nutritional Organic Body Mask 
- Sauna/ Steam Bath/ Jacuzzi 
- Aromasoul Mediterranean Massage 
- Hydramemory Facial
Our facial treatments restore natural luminosity to your complexion, revitalizing tired, dull skin. We bring you to the journey to healthier, rejuvenated, radiant skin. Our treatments will leave your skin renewed and refreshed. Begin your Deluxcious or Samporna regime today…
Comfort Touch Facial 
30mins 
An instant boost for skin in deed of a quick fix.
- Cleansing, Aroma exfoliating, Mask
Aromatherapy Facial 
90mins
Aromatherapy is a popular and effective therapy to ease away tension and improve mental and physical well being.
- Cleansing, Aroma exfoliating, Extraction, Aromatherapy Facial massage, Mask
Face Lifting Facial 
90mins 
Ultrasonic Lifting Facial Treatment stimulates blood flow and lymphatic drainage through the combination of ultrasound and facial therapy. This nourishes your skin and gives it a youthful rosy glow. Our esthetician will customize your ultrasonic facial according to your skin type and skincare needs.
- Cleansing, Aroma exfoliating, Extraction, Aromatherapy Facial massage, Mask

Profilift Intensive Facial Treatment 
100mins 
- Cleansing, Aroma exfoliating, Extraction, Profilift facial massage, Mask

Intense Pulse Light Facial Treatment (lPL)*
120mins 
The Aesthetics IPL Skin Rejuvenation is unique. The sign of aging, including rosacea, brown pigmentation and age spots, can now be eliminated.
- Cleansing, Aroma exfoliating, Extraction, Intense Pulse Light treatment, Face Lifting Ultrasonic or Aromatherapy Facial massage, Mask 

Oxynergy Facial Treatment*
120mins 
Beneficial for all skin types, this treatment nourishes and revitalizes the skin pore-by-pore. Special solutions of vitamins, minerals, essential oils and peptides are infused directly into the skin under the pressure of oxygen. It stimulates regeneration and increases and suppleness of skin.
- Cleansing, Aroma exfoliating, Extraction, Oxynergy Facial treatment, Face Lifting Ultrasonic or Aromatherapy Facial massage, Mask
Cavier Ultrasonic Royales Treatment
1hr45mins 
This treatment is designed to smooth wrinkles and improve elasticity, expedite protein synthesis and provide extreme hydration and radiance. It incorporates sound wave technology to penetrate deep below the surface of the skin promoting cellular renewal, encouraging Iymphatic drainage, combating puffiness and swelling. This treatment includes an upper shoulder and facial massage.
- Cleansing, Aroma exfoliating, Extraction, Cavier Ultrasonic treatment, Mask
Collagen Eye Treatment 
30mins 
Specialised treatment using acupoints and Iymphatic drainage to tone and revitalize the skin around the eyes.
- Cleansing, Eye massage, four layers of masks

Body treatments are the answer to tired, overworked and weary bodies. It's just like our faces. Extra special care and treatment is needed to our body too. Our body Treatment has put together a variety of body service to restore and improve the condition of your skin as well as detoxify and re-hydrate for an all-over body glow.
Traditional Lulur 
30mins
Lulur in Javanese means coating the skin. The recipe for lulur is made from finest quality of natural herbs in Bali island. Lulur is the skin treatment ritual that will leaves your skin feels smooth, and fresh.
Traditional Boreh 
30mins
Cleansing, Aroma exfoliating, Boreh is made of Balinese rich exotic spices including clove, cinnamon, nutmeg and ginger. Boreh has been used by Balinese to prevent rheumatic, relieve muscular pains, warm the body, heal headache & flu, and to improve the blood circulation.
Body Scrub
30mins
Body exfoliating is a well-proven external technique for encouraging natural lymphatic drainage by stimulating the movement of interstitial fluid that lies between the cells. It helps to break down the congestion areas where the lymph-flow that has become sluggish and where toxins have collected. Regular Body Exfoliating is recommended promote the rejuvenation of your skin. 

Body Mask 
30mins 
Body Mask is always taken place after a body scrub or lulur. A 'mask' is applied all over the body, allowing the body to activate the absorption of the natural ingredients.
A weekly mask treatment will give your sluggish complexion an invigorating boost. And the results are instant and dramatic. Masks are the most effective and economical way to build and maintain healthy skin, and a necessity to combat the adverse effects of daily pollutants on the skin.

Others
- Waxing 
- Manicure, and pedicure 
- Ear Candling